Alphabet Challenge - John & Teyla (Round 1) SIGN UP
Hey, Everyone Welcome to
sga_beya
, we are happy to introduce a new type of challenge for this year, for every challenge a letter will be posted with some rules of the kind of work that you must represent. This time, we will be having a Round 1, and all those who would like to join please submit a comment to this post by using the format given below.
Once you have joined, each will be assigned a tag, when posting please include the challenge tag and your name tag, so that it will be easy to make the masterlist later.
Once I have enough members I will be posting the first challenge. As for the time frame, I will see how the challenge goes and try to fit it according so that everyone has enough time to do their work.
I got this idea from the LandofArt community who is doing the similar challenge.
RULES
All challenges must include John & Teyla from Stargate Atlantis.
It is not restricted to artwork only, some of the challenges will be written work as well. So this challenge is applicable for all.
Please if posting any adult pictures, please put it behind an LJ cut.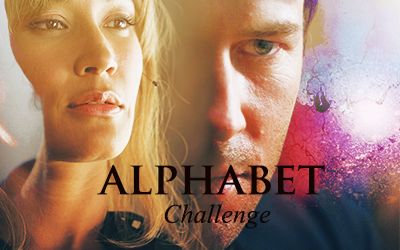 If you would like to promote this please use the banner given, as I would like all the members to be part of this as well as new ones.
I hope to get started soon, so come and join.. and spread the word... to all SGA fans.